22 Feb

Top Nightwear and Gadgets to Help You Sleep

The latest sleep research published on Time reveals that an hour of sleep actually makes a lot of difference—especially in terms of what a person eats. Apparently, uneven sleep patterns cause the levels of the hormone leptin in the body to drop, prompting the body to feel hungry.

Although sleep has always been one of the basic elements of living, it's often one of the easiest to take for granted. With the vast amount of external variables that distract us from sleeping, more and more people (even teens) get less and less sleep every day.

Believe it or not, you can turn to gadgets to act as effective sleep aids. Compliment them with some wonderful nightwear, and we are sure you will be able to improve your sleeping habits.

So with that in mind, here are some of the top nightwear and tech tools to help you get quality sleep, every single night:
Mars + Smart Mattress
When Insider writer Maria Del Russo's body started rebeling against her after training for her first race as a runner, she found it almost impossible to sleep every night. So she turned to Eight's Mars+ smart mattress, which comes with a smart mattress cover that tracks the bed's temperature, how often she tosses and turns, and whether or not she's in a deep sleep. The smart cover connects to an app, which shows data that will guide you to make necessary changes to your bedroom. In Del Russo's case, she had to adjust the temperature in her room. "Even though my mattress was cool, my environment was warm, and that temperature discrepancy can lead to a restless night's sleep," she said.
Smart Nora Anti-Snoring Device
The system includes an air pump, an inflatable device that goes under your pillow, and a wireless mic that you put on your nightstand. The mic picks up the sound of your snoring and triggers the air pump to inflate the device under your pillow. The slight movement in your head will stimulate your neck and throat muscles, opening airways so you can breathe again.
Casual Moment's Hooded Pajamas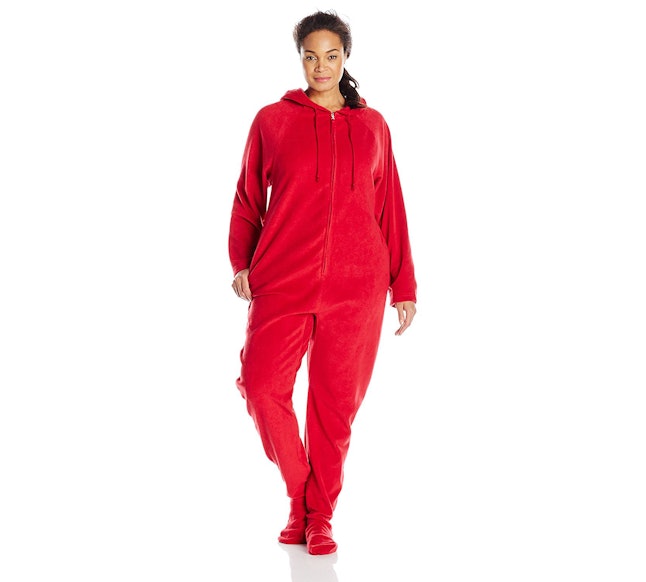 When the weather isn't being very kind, making sure you keep warm at night is vital as it's one of the best ways to prevent colds and flu. Casual Moment's 100% polyester fabric hooded pajamas can help keep you warm at night. The thermal pajama sets featured by Woman Within also shows some modern styles that are designed to be worn in the colder months of the year. You can also opt for the classic button-down pajamas from Alexander Del Rossa. For men, Tony & Candice Men's Classic Satin Pajama Set and Hanes Men's Woven Plain-Weave Pajama Set come highly recommended. Reader's Digest suggests you pair these with socks—just make sure you wear wool socks over liner socks.
Sound + Sleep Sound Machine
Apart from the temperature in your room, noise can impact your quality of sleep, especially if you're a light sleeper. Sound machines are an effective way to drown out outdoor noise, according to Very Well Health. In fact, in a 2008 Consumers Report survey, it was found that sound machines work as well as medication when it comes to getting people to sleep.
While the sleepwear and gadgets listed are extremely useful, you also need to create routines. A steady routine combining exercising, a healthy diet, and going to bed the same time everyday is found to help you get quality sleep. Here on CompleteBody we believe a little bit of chaos is okay, but a chaotic lifestyle isn't.